Plymouth University boss William Taylor 'kissed student reps'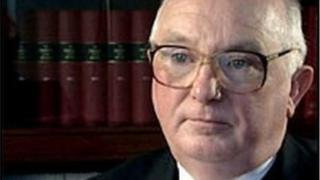 A university boss has been accused of abusing his power by kissing and embarrassing female colleagues.
Allegations of sexual harassment were made against William Taylor, Plymouth University's chairman, in July, which he "categorically" denies.
A BBC investigation has revealed the first details of claims about his conduct, including lewd jokes at formal occasions and unwanted hand-holding.
Mr Taylor said the allegations would be "robustly defended".
Sex jokes
The BBC has spoken with seven complainants and supporting witnesses, ranging from recently graduated student representatives to senior staff.
The allegations include unwanted touching in the form of hand-holding for minutes at a time or kissing.
They also include accounts of lewd jokes or innuendo in conversations in front of others, including at formal occasions.
Three members of staff claim retired judge Mr Taylor joked about a sex act that might be performed on a male colleague.
A woman student representative described an occasion at an awards dinner when Mr Taylor, upon seeing a picture of a cat on her mobile phone, made a crude double-entendre which she said made her "uncomfortable".
All requested anonymity, although the BBC understands the claims have also been made formally to lawyers acting on behalf of university chief executive and vice chancellor Professor Wendy Purcell.
Prof Purcell is currently suspended while a separate investigation is carried out into her conduct.
'Abused power'
The BBC understands that the university has received at least two formal complaints.
One senior member of staff described Mr Taylor as "a person who was very comfortable abusing his power".
"Because he was very comfortable demeaning me," she added. "He was very comfortable making statements that were insinuating sexual commentary.
"It wasn't a person who was respecting the work that I did at the university. It was a person who decided he wanted to have titillating conversations and didn't care that I was uncomfortable, didn't care that it was unprofessional."
In the course of the BBC's inquiries, one woman who knows Mr Taylor through the university and his previous charity work spoke in support of him.
"I've seen him at a number of social and charity events where alcohol has been available and I've always found him to be totally appropriate," she said.
"I would say he's quite patriarchal, of a different sort of age, and definitely a different social class from most people."
A senior barrister was appointed by the university in August to support its investigation into the first set of allegations against Mr Taylor, which were received by the board in July.
They were submitted by Prof Purcell on behalf of a number of women.
The university has not revealed the reason for Prof Purcell's suspension.
Mr Taylor's lawyers, RPC, said: "Those allegations are currently the subject of an investigation.
"Save to say that the allegations will be robustly defended, it is not appropriate to comment until that investigation is concluded."
---
Timeline of events
Sources: HEFCE report and BBC News
---