Campaigners march over Totnes one-way traffic system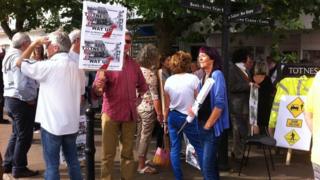 More than 100 residents and traders have marched through Totnes in Devon to protest about controversial traffic changes.
Devon County Council temporarily changed many of the town centre's roads to one-way a year ago with the aim of making the town safer for pedestrians.
The One Way Up campaign group aimed to highlight growing accident figures and increased congestion since the change.
A council spokesman said: "Most local people and traders support the scheme."
In April BBC presenter Jonathan Dimbleby marched with protesters against traffic flow changes.
Totnes resident Peter Richardson said: "This is a town, we should be supporting local trade but locals find it increasingly frustrating to get into Totnes and often give up and go elsewhere."
Heather Williams, 86, who has lived in Totnes for 24 years, said: "This has completely changed the pleasure of living here. It's far more dangerous to cross the road.
"We have much more traffic and the fumes and noise are so much worse."
Local trader Sue Nurse added: "If the situation was good everyone would be saying so. They aren't."
Robert Vint, Devon County Councillor for Totnes Rural, said: "Since the traffic calming scheme was introduced there are 14 more retail businesses than there were before, business turnover has increased, the empty shop level is the lowest in Devon and still falling and unemployment has halved.
"These are not indicators of imminent disaster."
A spokesman for Devon County Council said: "The current one way system was put in place in order to reduce High Street congestion, stop rat running and improve safety for shoppers in the town.
"Following extensive local debate a democratic decision was made in August to extend the scheme and review again in 2016-17.
"Despite claims by campaigners, there is no valid evidence that local business has been harmed in any way."