Devon beavers trap plan 'may be illegal'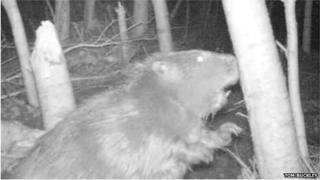 Environmental activists have called on the government to call off a plan to capture a group of wild beavers as it may be illegal.
Friends of the Earth (FoE) said because groups already live in the wild in Scotland the beavers in Devon are protected in England under EU laws.
The River Otter beavers are believed to be the only wild ones in England.
The government said they could be carrying disease and wants to test and re-home them in captivity.
The three beavers, thought to be two adults and a juvenile, were first reported to be living on the river in the summer of 2013 and no date has been set for trapping them.
'Beautiful creature'
The Department for Environment, Food & Rural Affairs (Defra) said they could be carrying a disease "not currently present in the UK".
In a letter to Environment Secretary Liz Truss, FoE said Britain formed part of the "natural range" of beavers since there were already free living populations in Scotland and they should be covered by EU laws governing protected species.
Campaigner Alasdair Cameron said: "The European Habitats Directive makes it clear that beavers are a protected species when in their natural range.
"Beavers bring huge benefits to the environment, reducing flooding and boosting fish stocks and biodiversity.
"The government needs to listen to what local people are saying, instead of taking a knee-jerk response. This is a fantastic opportunity to study the return of a beautiful and iconic creature."
A Defra spokesperson said: "Beavers have not been an established part of our wildlife for the last 500 years and their presence could have a negative impact on the surrounding environment and wildlife. These animals may also carry a disease which could pose a risk to human health.
"Once captured and tested, we intend to rehome them in a suitable location, and all decisions will be made with the welfare of the beavers in mind."