Devon child protection services 'still inadequate'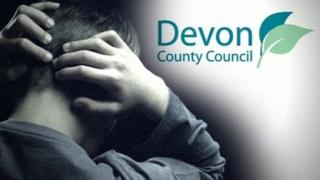 Devon County Council's child protection services were found to be inadequate, 13 months after regulators criticised the department.
In May 2013, Ofsted rated the department inadequate after an inspection.
But a review by the Department for Education (DfE) in June, reported the service "still had some way to go".
The council said it would take 18 months to turn the service around and improvements had been made since June.
'Considerable concern'
In a letter to the council, the DfE said: "Overall the impression we had from the review meetings was that whilst the authority feels 'safer' than when Ofsted inspected, there is still some way to go until the service can be described as being 'safe'.
"It was clear from the discussions that many of the social workers, managers and partners we spoke to felt that, if Ofsted inspected services now, they would find practice to still be 'inadequate'.
"Given the length of time that Devon has been subject to an improvement notice, this is of considerable concern."
James McInnes, the council's cabinet member for children, said a review due later in October would show "significant areas of improvement" in prioritised parts of the service including the recruitment of 30 newly-qualified social workers.
He said: "Turning round the service takes about 18 months. We are never going to stop working at this."