Devon woman loses house after dementia misdiagnosis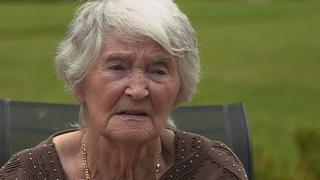 A woman who was misdiagnosed with dementia has said she sold her home to pay for care she did not need.
Winnie Hill, 88, from Plymouth, Devon, spent a year in a specialist unit before being told she had mild cognitive impairment and "there was nothing wrong her".
Ms Hill, who was diagnosed 18 months ago, has since left the unit.
The Department of Health declined to comment on the case but said £90m was being spent on dementia services.
Ms Hill's daughter, Katherine Hicks, said her mother was struggling to cope in the the unit so she pushed to get a second opinion on her condition.
"She was feeling like she was in a prison and isolated; I think she was angry as well and didn't know how to express herself," she said.
"Everyone was looked after really well but I saw things I didn't want to see and was worrying that was what my mum was going to be like - it was really hard.
"She stopped eating and started losing weight. I decided I had to had to find out what was going on."
Speaking to BBC Inside Out South West, Ms Hill said: "A doctor said to me I didn't need to be in here. He said, 'As far as I'm concerned there's nothing wrong with you'."
Ms Hill later moved into a different care home.
The government target is for two-thirds of those thought to have dementia to be diagnosed by 2015; the current average is 45%.
NHS England said there were 670,000 people with dementia in England, but 350,000 of those remained undiagnosed and without access to support.
A spokeswoman said it did not record misdiagnosis rates.
But dementia specialist Dr Nick Cartwell said rates of misdiagnosis should be recorded.
"We still don't understand how many people in our community have dementia," he said. "We have a rough idea but we still don't really understand it.
"Having an idea of the risk of pushing for that diagnosis would be a useful reality check for the government and medical profession."
Inside Out is broadcast on BBC One South West on Monday, 13 October at 19:30 BST and nationwide on the iPlayer for seven days.