Thieving secretary Sharon Tricker jailed at Exeter Crown Court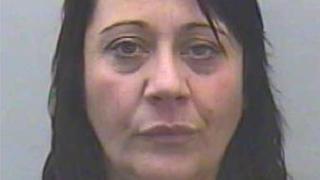 A secretary who stole £400,000 from her boss's scaffolding company, sending the firm bankrupt, has been jailed.
Sharon Tricker installed a hot tub, a gym, expensive furniture and televisions in her home and took luxury holidays, Exeter Crown Court heard.
Her crime wave between 2007 and 2012 ended after accountants became suspicious.
Tricker, 45, of Pinn Lane, Exeter, admitted fraud and was jailed for three years and nine months.
The court heard she and her husband Paul had a joint annual income of less than £30,000 but she spent £75,000 a year on her luxury lifestyle.
'Straightforward greed'
She forged cheques, used company money to pay household bills, and used her position as company secretary to draw up to £2,000 cash a time.
She took her family on holiday to San Francisco and helped her husband buy a £25,000 BMW, Exeter Crown Court was told.
David Sapiecha, prosecuting, said Tricker's thefts led to her boss Mark Saunders' firm, RC Contracting, going broke.
Judge Elizabeth Rylands told her: "Your role was to safeguard the company and not to try to destroy it.
"This amounts to a truly appalling crime involving a gross breach of trust born out of straightforward greed.
"You committed the greatest breach of trust against somebody who supported you and trusted you over many years, and all for the sake of materialistic greed."