Stephen Crook murder: Teen denies part in stabbing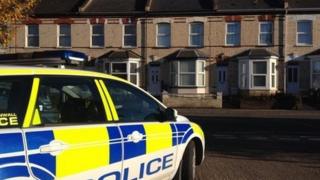 A teenager has denied being part of a group that robbed and killed a drug dealer in Exeter, a court has heard.
Bradley Richardson said he did not enter Stephen Crook's home on the night he was stabbed.
The 18-year-old, from of Prior Deram Walk, Canley, near Coventry is one of five people accused of attacking Mr Crook at his home in Exeter.
The men, one from Okehampton in Devon and four from Coventry, denied murder and robbery at Exeter Crown Court.
'Scared and panicked'
The jury was told they planned a robbery which went wrong and ended in the fatal stabbing of Mr Crook.
Mr Richardson told the court he came to Exeter for a day out with friends and did not know anything about the plan.
He handed himself into police in Coventry a few days after the incident after he heard officers were looking for him.
In the intervening time he burned the clothes and shoes he had worn in Exeter because he was "scared and in a panic", and worried he might be falsely implicated, the court heard.
"I did not know any violence was going to be used and I did not expect anyone to be injured at all," he said.
'Bought knives'
The prosecution told the court Steven Webster, 40, of East Street, Okehampton, set up the raid in Alphington Road, Exeter, in November last year, which was carried out by the four men from Coventry.
Webster helped the other four gain access to the flat, which was guarded by a CCTV system, and the four men then carried out the attack with knives they had bought in Sainsbury's supermarket, prosecutors said.
The three men on trial alongside Mr Richardson and Mr Webster are Ryan Singleton, 26, of Howcotte Green, Canley; Darren Twigger, 40, of John Rous Avenue, Canley; and Anthony Martin, 22, of Gerard Avenue, Canley.
The defendants deny the charges.