Christie-inspiration Burgh Island solar plan 'horrific'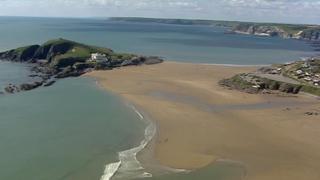 Plans for 200 solar panels on an island frequented by writer Agatha Christie are "horrific" says a former owner.
Tony Porter said the panels would "spoil" Burgh Island in south Devon which is visited by thousands of holidaymakers every year.
Owners of the island and hotel say the site, on a former tennis court, will be protected from view by hedging.
Deborah Clark and Tony Orchard, who own the Art Deco hotel on the island, have applied to South Hams District Council.
Mr Porter, who sold the island in 2001, said: "We are horrified that this application has been lodged.
"We spent 16 years doing everything we could to restore it to its former beauty.
"Now this green island sleeping in the sun is going to be scarred by this horrible shiny thing.
"It will visible from miles away, it is going to glint in the sun and spoil the whole thing."
---
BURGH ISLAND
Inspired the setting for Agatha Christie novel, the Hercule Poirot mystery Evil Under the Sun.
The 2002 TV adaptation of Christie's Evil Under The Sun used the island as a filming location.
Hotel visited by playwright Noel Coward in 1930s
Several scenes from the BBC's 1987 dramatisation of Christie's story Nemesis were also filmed in the hotel.
And Brits-award winning singer Ben Howard released an EP name after the island in 2012.
---
Four objections have been received so far by the council including one from Hubert Ashton of Folly Hill, which overlooks the island.
He said: "This would be a monstrous carbuncle on an old friend. It would be ruinous for the beauty of the island."
Stuart Watts, chairman of Bigbury Parish Council, said he thought it would be rejected.
"As a feature the island is known around the world," he said. "So this is bound to prove controversial and stir up a huge amount of interest."
The council is holding a meeting on 12 November to hear residents' views about the plan.
John Chalmers, of the South Hams Society, said: "It is a totemic site but nevertheless the actual harm caused must be considered fairly minimal compared with other sites where you see a whole sea of panels.
"We have to take a practical and not an emotive view."
The owners, who have not so far been available for comment, say on the application that the array will be of "dark grey non-reflective glass" and say it "will not be visible from most of the hotel" and from the east and south and north-west.