Partnership to improve fire safety for people with memory loss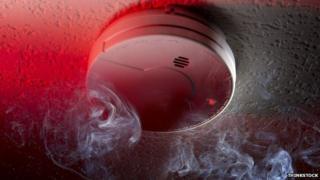 A charity and firefighters have teamed up to help people with memory loss live safely in their own homes.
The Estuary League of Friends and Devon and Somerset Fire Service are working to ensure homes were checked for fire safety and improvements carried out if needed.
Such work could include installing alarms or removing flammable objects which could block an escape route.
The leagues assists about 1,300 people in Exeter and east Devon.
How common is dementia?
Approximately one in 14 people over the age of 65 have dementia
It mainly affects people over the age of 65
It is predicted there will be around 850,000 people in the UK with dementia in 2015
Alzheimer's disease is the most common form, affecting 62% of those living with dementia
Source: Alzheimer's Society
The charity said staff would be trained to identify if clients' homes needed additional safety work.
In return, firefighters would receive training on how to identify and work with people who had Alzheimer's disease or suffered from other memory problems, it added.
Estuary chief executive Rachel Gilpin said its workers were "sometimes their only visitor or help".
She said: "They trust us to signpost them to local expertise.
"After being trained, our staff can arrange a home fire safety visit from the fire service."