'Vital' maintenance work under way on Exeter Cathedral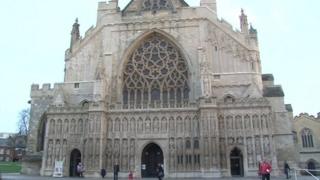 The Dean of Exeter said spending £277,000 of taxpayers' money on a chapel in Exeter Cathedral is vital to stop it from "crumbling to pieces".
The Very Reverend Jonathan Draper said parts of the building were slowly falling apart.
The work will involve repairing drainage and reroofing the chapel of St Andrew and St Catherine.
The government has given the listed building the money from its First World War Centenary Cathedral Repair Fund.
Dr Draper said: "We're a self-financing organisation and that's quite a challenge, so this kind of money coming at this particular time enables a really big and important piece of work to be done on the building to preserve it for another 900 years, we hope.
"Somehow, and we're not sure why - that's part of the project we're going to do - water is getting into the wall and forcing itself through the stonework which is causing it to crumble and slowly deteriorate to nothing."