Kingsteignton road shift safeguards 100 Sibelco jobs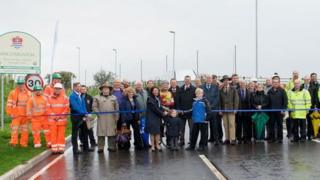 A road has been moved at a cost of £10m to keep a clay pit working and safeguard the future of 100 jobs.
The old B3193 went over Sibelco's ball clay works at Kingsteignton in Devon.
A 3km (1.9 mile) stretch has been moved about half a mile eastwards to allow the firm to extract clay underneath the road.
Devon is one of only a few locations in the world where ball clay, most commonly used in ceramic bathroom ware, is found.
+-, which will allow Sibelco to extract about half a million tonnes of "saleable" clay for the next 50 years.
A spokesman for Sibelco, which paid for the road realignment, said: "Had it not gone ahead the future of the site would have been in doubt."
Ball clay, which has been quarried in the Bovey Basin of Devon since the mid-17th Century, is now exported to about 80 countries worldwide, with the main markets in Europe, North Africa and the Middle East.
The ball clay mining industry employs about 180 people in Devon and is worth an estimated £25m a year to the local economy.