Pensioner killed with WW1 bayonet in Sidmouth pub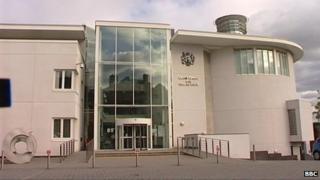 A man has admitted killing a pensioner by stabbing him through the chest in a pub with a World War One bayonet.
Nicholas Jamieson attacked Brian Kemp "out of nowhere" in the Black Horse in Sidmouth, Devon.
Exeter Crown Court heard the fatal stabbing occurred after Mr Kemp, on holiday from Nottingham, refused to buy Jamieson a pint.
Jamieson, 42, admitted manslaughter by reason of diminished responsibility and was detained in hospital indefinitely.
After the unprovoked attack on 26 September last year, Jamieson, who lived opposite the pub, went back to his drink, smirked and then offered to help the dying man as he lay on the ground, the court heard.
Prosecutor Simon Laws QC said: "This was a completely unprovoked killing of an elderly man by the defendant with a serious psychotic illness."
He said Jamieson had bought the long-bladed bayonet in April 2013 for £90.
'A horrific crime'
The court heard Mr Kemp, 71, noticed that Jamieson was pestering a woman at the bar but she told him to go away.
Mr Laws said: "Mr Kemp expressed his disapproval at what he was doing at one stage by tutting. It is not clear whether Jamieson noticed that."
He said that Jamieson then asked Mr Kemp, a stranger, to buy him a pint but the pensioner politely refused.
Mr Laws said: "As Mr Kemp nursed his pint at 10pm Jamieson removed from his jacket his bayonet. He moved purposely to Mr Kemp and stabbed him in his chest.
"Nobody could have predicted it, coming out of nowhere. Brian Kemp did not see it coming at all."
The blade pierced his heart and went 17cm (7in) into his chest and spine.
Judge Francis Gilbert made a hospital order, saying: "It was a horrific crime."