Exeter charity shop left more than £3.5K in cash in bag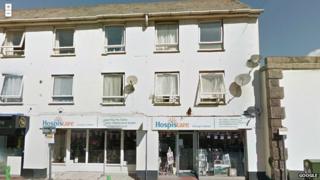 A mystery donor has left more than £3,500 in cash outside a charity shop.
Police are appealing for the donor to come forward "to establish if the donation was made legitimately".
Devon and Cornwall Police are holding onto the money left at Hospiscare in Cowick Street, Exeter, until it is established the money was meant for it.
A total of £3,540 was left in a bag in used £20 notes and was among other items left outside the shop on Monday morning.
'Huge boost'
"It was left before the shop opened and all we are trying to do is confirm that it was the donor's wish to give the money to the charity," said a police spokesman.
If no-one comes forward in the next six weeks the money will stay with the charity.
Glynis Atherton, Hospiscare chief executive, said: "The manager was amazed and immediately contacted the police.
"This sum would provide almost a whole week of 24 hour wraparound care in our hospice from our doctors and nurses.
"If it's intended for us, and it's not claimed, it would be a huge boost to our work."