Plaque marks Peter Cook's Torquay birthplace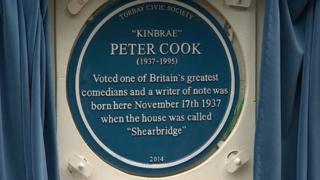 A blue plaque has been unveiled in Torquay to mark the birthplace of Peter Cook.
Widely regarded as one of Britain's greatest comedians, he was born in Middle Warberry Road in November 1937.
The son of a diplomat, Cook is best known for co-writing and starring in the 1960 satirical review show Beyond the Fringe, and for his work with Dudley Moore.
Cook died in 1995 from complications relating to liver disease, aged 57.
The plaque was unveiled by the Torbay Civic Society.
'So excited'
Society chairman Ian Hanford said Cook's parents had been working in Africa but moved to Torquay, ensuring their son was born in England.
Becky Bettesworth, who lives in the house on Middle Warberry Road, said her family was "so excited" to learn Cook was born there.
Cook rose to prominence with Beyond the Fringe, which also featured Dudley Moore, Alan Bennett and Jonathan Miller.
It had great success in the West End and later on Broadway.
He then went on to run satirical magazine Private Eye and also opened The Establishment - "London's first satirical nightclub" - in 1961.
Cook had success with Dudley Moore during the 1960s and 70s in shows including Not Only... But Also, and starred as Richard III in the first episode of television comedy Blackadder in 1983.
Cook maintained connections with Torbay throughout his life.
He was a fan of Torquay United - the Gulls - and married his third wife at Oldway Mansion in 1989.
Mr Hanford said Cook was "absolutely besotted" with the Gulls and often wore a club scarf on stage.
The Torbay plaque is the latest that honours the comedian.
In 2009, a plaque was unveiled in Soho at the site of the Establishment Club.