Exe Estuary Trail officially opened in Devon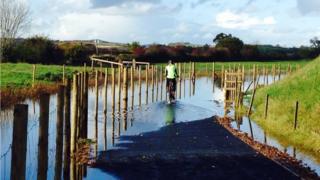 The final stage of a cycle path in Devon has been officially opened after 10 years in development.
The £1.6m section of the coastal cycle path between Turf Lock and Powderham was opened by Devon County Council Chairman George Gribble.
The Exe Estuary Trail has already flooded but Devon Count Council say this was expected.
Chief Engineer Rob Richards said it was designed to work with the natural environment as it is in a flood plain.
He said: "It has been challenging, this location is hugely sensitive. The scheme has been designed to fit into the environment and will flood occasionally."
The full Exe Estuary Trail lets people walk or cycle along both sides of the River Exe between Exmouth, Exeter and Dawlish.
Stuart Hughes, cabinet member for highways management and flood protection at the county council said it was the final part of the jigsaw.
He said: "It means so much as it encourages people to come to Devon. It has been a long time in the making and we have been building it in sections."
"We have already seen how important walking and cycling is to Devon's economy.
"Sections may flood at times but the old public right of way will remain open so there is an alternative route people can take."