Eagle owner Jonathan Marshall faked permit to be on TV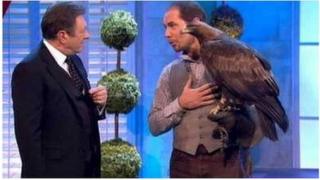 A falconer forged an animal permit for his golden eagle so he could appear on the ITV's Alan Titchmarsh show.
Jonathan Marshall, 46, of Colyton, Devon, admitted falsifying an endangered species permit and keeping the eagle without registration.
At Exeter Crown Court he was jailed for five months, suspended for two years and banned from keeping endangered birds of prey for five years.
He appeared on the Alan Titchmarsh show in January 2013.
He was seen by viewers flying alongside the eagle Samson in a microlight.
Marshall ran displays at country shows and stately homes in the UK when he was hired for the Titchmarsh show.
He had hit the headlines in 2012 when Samson flew off during a display at a wedding in Berkley Castle in Gloucestershire and reappeared having flown to Escot, near Honiton, Devon.
Marshall was being filmed as he spotted the eagle above him and his tearful reunion was featured on YouTube.
Emmi Wilson, defending, said: "He saw the opportunity of getting great publicity of the Alan Titchmarsh show.
"In an interview with police he accepted he had modified the permit to enable him to take Samson on the Alan Titchmarsh show."
But Samson needed a permit as an endangered species to show he had been bred in captivity and not taken from the wild.
Ms Wilson said he had used another bird's permit as a template for the TV show.
The six-year-old eagle was now dead, shot by a gamekeeper in August 2013, the court was told.
The court was told that Marshall was bankrupt and his remaining birds had been transferred into the ownership of his girlfriend, who employs him to organise shows.