Royal Mail tackling 'awful writing' on Christmas post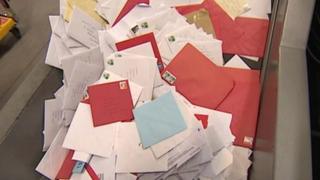 More than 1,000 staff in Plymouth have been working to decipher addresses that cannot be read by computers during the Christmas holidays.
Photographs of "awful writing" on some letters and parcels are sent to the manual data entry centre.
The centre employs about 500 people, with 880 additional agency staff taken on over the Christmas period to help get post to its intended recipients.
Plymouth has the largest of three specialist centres in the UK.
On busy days leading up to Christmas, photographs of up to 20m addresses were sent to Plymouth.
Ian Veale, production control manager, said: "You can get some awful writing, a bit like your doctor's writing, really... "
Royal Mail said sorting machines dealt with approximately 90% of post, with the remaining addresses sent to centres in Plymouth, Stockport or Stoke.
Mr Veale said: "We then get a human being in the mail centre to read it and it can be on its way to its rightful owner."
Staff were also briefed on how to deal with any mail addressed to Father Christmas, who has his own postcode of XM4 5HQ.