Devon baby brain damaged after jaundice 'treatment failures'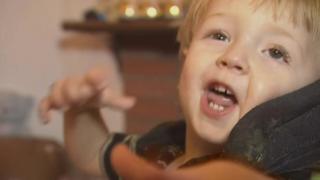 A family has warned about the potential dangers of newborn jaundice after their baby was left brain damaged.
Khan Gold, from Devon, became ill with kernicterus five days after his birth in April 2013. He now needs lifelong care.
His parents said they wanted to make sure babies in similar situations received appropriate care.
The Royal Devon and Exeter NHS Foundation Trust has apologised for failings in his treatment.
Newborn jaundice
Common and usually harmless
Caused by bilirubin, a yellow pigment found naturally in the blood which forms when red blood cells break down
The liver in newborns is not fully developed, so it is less effective at removing bilirubin
By the time a baby is about two weeks old, their liver is more effective at processing bilirubin, so jaundice often corrects itself by this age without causing harm
Kernicterus is a rare but serious complication of untreated newborn jaundice, affecting fewer than one in every 100,000 babies
In kernicterus, bilirubin spreads into the brain. It can result in damage to the brain and spinal cord
As it progresses, additional kernicterus symptoms can include seizures and arching of the neck and/or spine
Source: NHS Choices
Khan was born healthy on 15 April and went home with his mother the following day.
Solicitors at JMW, representing the family, said midwives who visited their home, near Honiton, told parents Ed and Laura-Faye Gold that baby Khan's jaundice was normal.
None of them carried out blood tests or referred him to hospital, they said. By the time problems were noticed, it was too late for treatment.
JMW said Khan was likely to be severely disabled and needing 24-hour care for the rest of his life because midwives "failed to follow NHS guidelines on the treatment of newborn jaundice".
The firm also said: "The lack of appreciation of the danger Khan was in by the midwives would suggest that there are training issues at hospital trust that need to be addressed urgently."
Key changes made to procedures:
All babies with jaundice to be tested for kernicterus at whatever age
Midwives to review previous entries in the maternal and baby notes to gain a broader awareness of recent events
Discussions with parents regarding tests advised for the baby, including risks and benefits, must be documented by midwifes in patient notes
Source: Royal Devon and Exeter NHS Foundation Trust
The trust, which is responsible for the community midwife service, said: "The failure to escalate the situation in a timely way to the GP or paediatrician was deeply regrettable.
"Lessons have been learned to ensure the risk of this happening again is minimised and we continue to place patient safety first and foremost."
Trust chief executive, Angela Pedder, also offered her "sincere apology" to the family.
Khan's parents, who have four other children and are seeking compensation from the trust, said they wanted to ensure other babies in the same situation received appropriate care.
Mr Gold, 41, an electrician, said they worried for Khan's future and how he was going to cope.
"We just want to warn other parents about the risks of newborn jaundice and ensure the hospital makes whatever changes are necessary to prevent this from happening to any other child."