Hundreds on waiting list for Plymouth Ocean Studios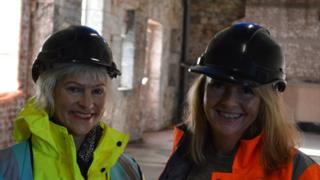 A £4.2m artists' studios development in Plymouth has more than 400 on its waiting list for 31 spaces.
Ocean Studios at the Royal William Yard will put all applications to a panel of experts to decide who gets the rented studios.
The aim is to offer artists space to create, sell their work and get help from business advisors.
About £2m came from the EU, with the rest from the government, Plymouth City Council and English Heritage.
The studios, opening in May, are part of a former military victualling yard overlooking the River Tamar which has been turned into flats, restaurants and bars by developer Urban Splash.
Co-founder Jen Jayarajah said there would be communal space for many more than those in the studios and hoped no-one would be turned away.
She said the "transparent application process" would consider the quality of the artists' work and their "commitment to being an integral player" to the studios.
All applicants will have the opportunity to present their proposition to the panel during the selection process.
Ms Jayarajah said: "We knew that about 600 artists graduate from the art college and the university every year and they don't stay here due to the lack of facilities so we knew there would be a high demand."
Co-founder Leigh Mason said: "It is extremely exciting for all involved that we are at this stage now of opening up the doors to our most important element, the people who will work here and bring the vision and the building itself to life.
"We have had an incredible response so far so I would strongly encourage any artist, designer or craft maker to get in touch and apply as soon as possible."
The selection process opened on 5 January with a deadline of 30 January.