Ex Truro Diocese church officer on child sex charges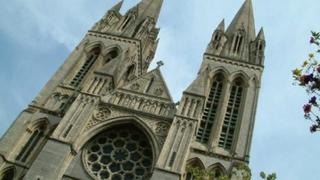 A former officer for the Diocese of Truro has been charged with sex offences against children.
Jeremy Dowling, 76, faces 15 charges of sexual assault against boys aged under the age of 16, said police.
The offences are alleged to have happened while he was working at a Devon primary school between 1959 and 1971.
Mr Dowling, of Church Path, Bude, retired as press officer for the diocese in 2009.
The diocese said it was "deeply concerned" about the charges that related to a time before he was employed by the diocese.
"The safeguarding of children and vulnerable adults is always of paramount importance to us and we make every effort to ensure their well-being at every level in the diocese," it said.
Mr Dowling was also a governor at Budehaven School for 18 years before stepping down in 2013.
He is due to appear before Bodmin magistrates on 22 January.