Tamerton Foliot vigil in memory of Tanis Bhandari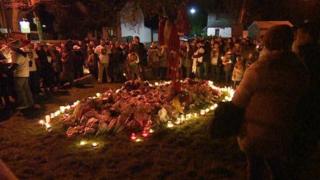 A vigil has been held in memory of a man who died in a suspected axe and knife attack on New Year's Day.
Tanis Bhandari, 27, was killed in the early hours of 1 January, near the King's Arms pub in Tamerton Foliot, on the outskirts of Plymouth.
More than 500 people, including members of his family, turned out for the event in the village on Saturday evening.
Tributes were paid to builder Mr Bhandari, with a montage of pictures put on display in the pub.
Police were called to the King's Arms at about 01:30 GMT on 1 January.
An inquest into Mr Bhandari's death heard he died "from a stab wound to the back of his chest", the coroner's office confirmed.
Four other men were seriously injured near the pub.
Two men from Plymouth, aged 20 and 21, have been charged with his murder and with possessing an axe and knife in public. They remain in custody.