Devon and Cornwall Crime Commissioner Tony Hogg removal calls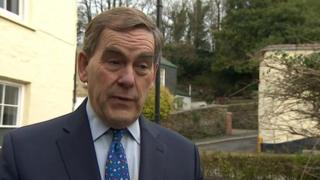 Calls have been made for a Police and Crime Commissioner (PCC) to be removed for proposing a rise in the police's share of council tax and then going on holiday for the meeting.
Tony Hogg, Devon and Cornwall's PCC, proposes to raise the tax by 1.99%.
One councillor said it was "appalling the Commissioner was not facing public scrutiny of his plans" and called for him to be removed.
Mr Hogg said he booked a trip to Canada which was agreed with the panel.
In a letter from Mr Hogg to the Devon and Cornwall Police and Crime Panel Mr Hogg apologises "very sincerely".
He said: "I will present our budget plan through my team, in whom I have complete confidence."
Mr Hogg said he is going to Canada to visit his son who is in the armed forces.
Speaking to the BBC Mr Hogg said: "In September of last year I approached the panel and said I had a clash of dates, can you shift the date by a week so I can attend or will you be happy if my chief executive and chief of finance inspector speak for me.
"I'm really disappointed I can't make the points myself but I foresaw this.
"I agreed with the panel what to do, my position is clear."
This row adds to the sense of the scent of a general election hanging heavy in the air.
---
Analysis: Simon Hall, home affairs correspondent
The sharpest criticisms of Mr Hogg have come from Labour and the Liberal Democrats.
Hardly surprising perhaps, as both parties have promised to abolish Police and Crime Commissioners, while for the Conservatives they're a flagship law and order policy.
It's unlikely to be a coincidence, such a heated political row as this erupting just four months before the election, where the role of Commissioners - and whether they even have a future - may well be a high-profile campaign battleground.
---
The commissioner wants to raise the police's share of council tax by 1.99% for the coming financial year.
The 20-strong panel will meet on Friday 6 February to consider the plan.
Panel member, councillor Chris Penberthy, called the situation "appalling".
"If there was a legal option to be able to demand the recall of the commissioner I would be starting a campaign now," he said.
Chair of the panel, councillor Roger Croad, said: "I'm fairly relaxed about the commissioner not being present."
The Police and Crime Panel has the power to veto the commissioner's budget and force Mr Hogg to draw up revised proposals.