Devon swimming pools emptied after 'plug' pulled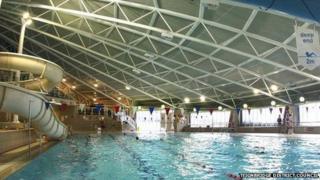 Two public swimming pools were accidentally emptied after a worker left a valve open while cleaning.
The pools at Newton Abbot Leisure Centre, Devon, are expected to be out of action for at least three weeks.
Thousands of gallons of water poured into the plant room up to 4ft (1.2m) deep, wrecking three pumps and the electrical equipment.
But it was not discovered until the next day when a manager arrived for work.
The 25m (82ft) x 13m (43ft) main pool and a 13m x 6m (20ft) learner pool were emptied, but have now been refilled. The pools will be out of action until at least the "end of next week".
The mistake happened during routine cleaning on 17 January, said Teignbridge leisure services councillor George Gribble.
He said: "Every week the pools are backwashed. But this time a valve was left open.
"It was an accidental sort of thing and it resulted in the swimming pools draining into the plant room."
Insurers have told the council that all the repairs and costs, which have not yet been calculated, will be covered.
Mr Gribble declined to comment on whether the worker would be disciplined.
"It's a small mistake but it's cost a lot of money," he said. "Engineers have been on site all week, mainly working to dry out the pumps and the electrical system.
"We hope to get it back up and running as soon as possible and hopefully by the end of next week."
Swimming clubs affected have been credited for missed lessons and people with a swimming membership package are being offered free use of the gym and fitness classes.
"Customers have been very understanding and we'd like to thank them for their patience," said Mr Gribble.