Devon MPs wade into ill girl's 'long-distance' treatment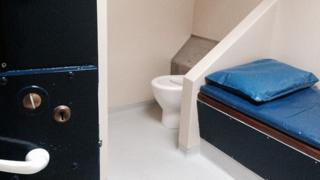 A mentally ill teenager who is being treated hundreds of miles away from her Devon home has received support from two of the county's MPs.
The girl was arrested in November and sectioned. But, with no bed available, she spent two days in a police cell.
Torbay MP Adrian Sanders has written to NHS England requesting local treatment and South West Devon MP Gary Streeter said more regional help was needed.
NHS England said it could not comment on individual cases.
'Political radar'
The girl, 16, is being treated at a specialist psychiatric unit more than 200 miles (320km) away from her family home.
The girl's mother, who is not being named to protect the girl's privacy, said: "My daughter needs her family. We need her, she needs us. We are a close family and we don't cope without each other."
Liberal Democrat Mr Sanders has written to NHS England asking whether the girl can be brought back to the county to be treated at a new unit in Torbay.
Conservative Mr Streeter said the "real problem" was getting the specialist treatment, which could be many miles away from the person's family and friends.
He said: "I'm glad this is rising up the political radar right now. A lot of people are not getting the support we would like to see.
"I'm concerned there are not enough safe units in Devon and Cornwall, [and] the government is looking at this."
NHS England has recently announced a new six bed mental health unit for Torbay and there are currently 12 beds in Plymouth but none in Cornwall.
Figures obtained from NHS England under a Freedom of Information request reveal that between April 2013 and March 2014, 47 young people were placed in beds outside of Devon and Cornwall.
A spokesman from NHS England said: "There are many reasons why children and young people are sometimes cared for out of area.
"Sometimes it is about finding the right type of unit for the individual, as not all cater for all needs.
"Sometimes it would be detrimental for the individual if, having settled in, they were then moved.
"And sometimes it is positively helpful to find a placement away from home, particularly if their domestic situation is difficult. It is therefore not always about lack of numbers.
"Nevertheless, the capacity of the South West to cope with a range of demands will be increased significantly with new beds at Watcombe Hall, Torquay, including psychiatric intensive care."