PC Sarah Cohen cleared of covering for paedophile fiancé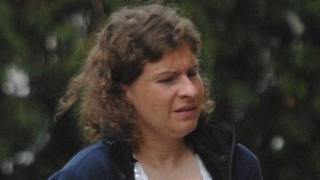 A police officer has been cleared of covering for her paedophile ex-fiancé, after she was accused of trying to stop a victim's parents from reporting an assault.
Devon and Cornwall PC Sarah Cohen, of Station Road, Lifton, Devon, was charged with two counts of attempting to pervert the course of justice.
She has been suspended from the force since she was charged in 2013.
In 2012, James Reading was jailed for sexually assaulting a 14-year-old girl.
In November 2011, Ms Cohen, was on duty at Launceston police station, Cornwall, when she received a call from Reading, who was at Meldon Dam, near Okehampton and said he wanted to kill himself.
She rushed to calm him down, without informing her control room and used pepper spray to subdue him. He was held under the Mental Health Act and not arrested.
She later discovered Reading - an air cadet sergeant at the time - had gone to the dam after sexually assaulting a 14-year-old girl.
Knife confiscated
The prosecution alleged she had tried to persuade the girl's parents not to lodge a formal complaint with the police about the assault but she insisted she went to offer the parents support.
Ms Cohen told the jury of the mental turmoil she had suffered during the 40 hours in which she was confronted by Reading's suicidal behaviour and the discovery that he was a child abuser.
She said she was already exhausted from working night shifts when the ordeal began and blamed lack of sleep for not handing in a knife which she took from Reading at the dam.
She was moved to a desk job during the investigation and has been suspended since being charged with criminal offences in July 2013.
The prosecution withdrew charges of misconduct in public office but said there may still be internal police disciplinary proceedings.
Reading, originally from Exeter, jumped bail while awaiting trial and was found guilty of sexual assault in his absence in December 2012 and was jailed for 10 years.
He was finally arrested last year and is currently serving his sentence.