Hay Tor car park closed overnight to deter 'boy racers'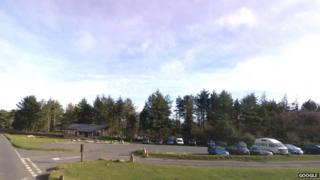 A car park at Dartmoor's famous Hay Tor has been closed at night to stop so-called boy racers meeting there.
Since January, there have been concerns about cars racing on the nearby road and drivers noisily revving engines.
A chain will be put across the entrance from dusk until dawn for at least two months said Dartmoor National Park Authority (DNPA).
Rob Steemson from the authority said the closure would be reviewed to assess its effectiveness.
"Sometimes there can be 20 to 30 vehicles in the car park, revving and making lots of noise," he said.
"In the last couple of weeks they have been racing each other up the road, causing disturbance to local people."
Mr Steemson said visitors would be able to use a nearby car park which the boy racers avoided because its lumpy surface affected their lowered cars.
"The park authority is very concerned about the amount of illegal activity at Hay Tor," he said.
"We apologise to other recreational users.
"We are working with the police with deal with the potential offenders."