Exeter students urged to be sure of vote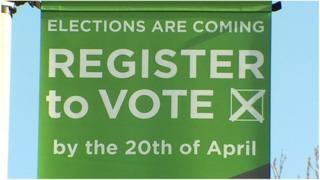 University students are being urged to make sure they can vote after a drop in those who are registered.
Banners have been put up around campus and a video has been released by the city council showing how to register.
It comes after figures from South West councils showed a drop of 24,000 people from the region's electoral roll, with university towns hardest hit.
Exeter City Council suspects students are the majority of the so-called "missing voters" in the city.
The number of registered voters in Plymouth has dropped by 3,000 since new rules came in last year and in Exeter the figure has gone down 5,000.
In the past universities could block register students living in halls of residence
But now everyone including students have to individually register by giving their date of birth and national insurance number.
Local residents not yet registered to vote can go online and register.