Ex-cricketer Raoul East cleared of attempted murder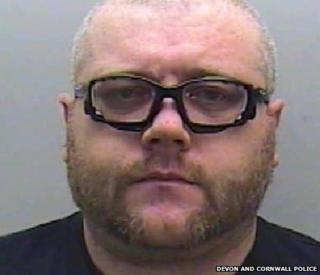 An ex-cricketer who badly beat a friend he spotted on a CCTV camera kissing his wife has been jailed for four years.
Raoul East, 38, a 25-stone publican who played for the MCC and second XI cricket for Warwickshire and Somerset, attacked Andrew Hines at The Vault pub in Seaton, Devon, in January 2014.
Exeter Crown Court heard the same CCTV system in East's pub also showed him punching and kicking Mr Hines, who suffered multiple injuries.
East was cleared of attempted murder.
Broken vertebra
Sentencing him for wounding with intent to cause grievous bodily harm, Judge Francis Gilbert QC said: "The CCTV pictures the jury saw showed you punching him as hard as you could. There is no question about that and you knocked him out with the first blow.
"You talked about stamping on him without force but it is quite clear you used as much force as you could possibly have done. He suffered a number of injuries to his head and a fracture of one vertebra."
Judge Gilbert said he took into account the fact the attack was out of character for East but said it was a sustained assault.
East, who is originally from Birmingham and played club cricket with Moseley, represented MCC Young Cricketers and played second XI cricket in the 1990s.
However, his career was cut short by injury and he spent four years coaching inner-city children before moving to Devon to become a publican.
Robert Cowley, defending, said various references showed East to be a "gentle giant", with no record for violence or any other offending.