Totnes residents evacuated after explosion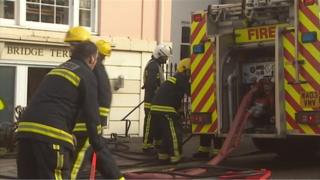 Several homes have been evacuated following an explosion thought to have been caused by an electrical fault.
The blast at Bridge House in Totnes, Devon, affected the power supply for the area but police said no-one appeared to have been injured.
Residents from about 22 properties were moved from their homes.
Residents Hazel and Steve Benkel said emergency services were "taking every precaution" in asking people in the area to move.