Devon lollipop crossings spared in cuts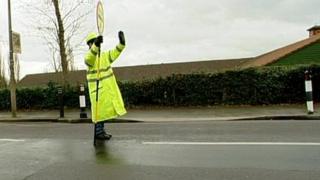 School lollipop men and women have been spared in Devon budget cuts.
The county council had planned to save £100,000 a year for the next two years in the school crossing budget.
But council leader John Hart told the council's cabinet meeting he had found the extra money to continue patrols next year.
The cabinet backed a council tax rise of 1.99%, meaning Band D taxpayers will now pay £1,161.27 for county council services, up £22.68 on last year.
The budget for 2015-16, which will now be discussed by the Conservative-controlled council on 19 February, still calls for £46m of savings, cutting spending to £500m in the next financial year.
An impact assessment by the council warned everyone would be affected by cuts "to some degree".
"Some of the most vulnerable people" will be affected by an estimated cut of £258m in welfare payments in the county by the end of 2015, said the document.
It said 30,000 private rent tenants hade been affected by cuts to housing benefit and 10,000 people would lose entitlement to Disability Living Allowance by 2018.
It said the "most significant impact has clearly been on low income households - particularly single unemployed, lone parents, non-working couples, large families and disabled people".
Mr Hart said the council was being squeezed by cuts in government funding.
"I would say we are between a rock and a hard place and the gap is getting bigger every year," he said.
"We have to find the money to provide the services we are legally obliged to provide but there is very little left to do what we would like to do."
The council is also proposing to cut a number of bus services. The public consultation lasts until 20 April.
If they are approved by the full council, they will come into effect during the second half of this year.