Five men not guilty of Plymouth stabbing plot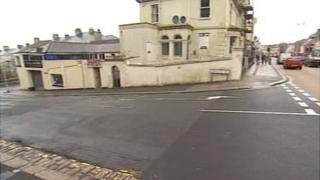 Five men accused of plotting to stab a man in Plymouth have been found not guilty of conspiring to cause grievous bodily harm with intent.
A 23-year-old man was repeatedly stabbed while getting into a taxi in April 2013.
A jury found David Woolley, 50, Nigel Saunders, 47, John Randolph, 42, Daryl Baxter, 40, and Thomas Tatam, 26, not guilty of the charge on Thursday.
The jury at Bristol Crown Court is still considering other verdicts.
Mr Saunders, of Peter's Close, Elburton, Mr Randolph, from the Whitleigh area, and Mr Baxter, from Blandford Road, Plymouth are also accused of causing grievous bodily harm with intent.
Mr Woolley is from Northumberland Street, Weston Mill, and Mr Tatam is from Amherst Road, Plymouth.