University of Plymouth Students' Union in sacking row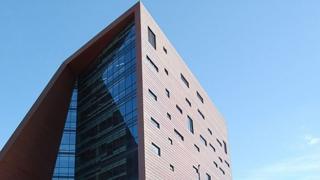 A students' union has been criticised for allegedly sacking a disabled woman without warning.
Unison said the unnamed employee was dismissed by letter from the University of Plymouth Students' Union (UPSU).
The union has accused UPSU of a "cavalier approach" to staff, which has led to high turnover and low morale.
UPSU said it could not comment on specific cases but added: "We would never dismiss an employee on disability grounds."
Unison said it had lodged an appeal against the sacked employee's dismissal, accusing UPSU of disability discrimination and not following formal procedures.
An industrial tribunal to arbitrate on the dispute may follow if both sides fail to agree.
'Poor employment practice'
The union said the sacking was among a number of complaints, including five of bullying, over the past year, from the 300-strong UPSU staff.
Area organiser Michael Auguste said: "It's rare we get so many members contacting us from one single employer, it's clear that all is not right at UPSU."
The union has also made a formal complaint to the UPSU about "poor employment practice".
"To date we have been wholly unsatisfied with management's response," said Mr Auguste.
Oli Horne, from UPSU, said: "We fully and proactively uphold the principles of employee rights, wellbeing and inclusiveness.
"As such, we have robust procedures to ensure our staff have a safe route to raise issues and receive support to have them resolved.
"We have only needed to turn to these procedures for a small minority of less than 3% of our salaried staff, over the past year."
He added UPSU was "an amazing place to work that delivers for both staff and students".