Devon and Cornwall Police fail to reach 999 calls in target time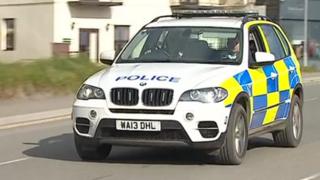 Devon and Cornwall Police are failing to reach more than a quarter of 999 calls within the target time, according to figures obtained by the BBC.
The force's performance in getting to the scene of an emergency has declined significantly from 2010 to 2014, the statistics indicate.
During the same period 400 officers have been cut.
Devon and Cornwall Police said they faced a "very challenging" situation and prioritised the most urgent cases.
In 2010, the target response time for 999 calls was missed in 13.7% of cases.
By 2014, the figure had more than doubled to 27.5%.
'Running amok'
The current target is for officers to reach an emergency within 20 minutes anywhere in Devon and Cornwall.
Pam Wilkie, who called 999 when a gang of youths began vandalising the garden of her home, said it took police "about 30 minutes" to arrive.
"That felt like a very long time. It was frightening with those children out there, running amok, because you don't dare to intervene on your own," she said.
Analysis
Simon Hall, BBC South West correspondent
Emergency response is arguably the most critical part of the police's work.
There has been much debate about the impact on the front line of cuts to forces, but these figures suggest a direct link between there being fewer officers and callers having to wait longer for help after they've rung 999.
That will be a particular concern at a time when yet more cuts in police officer numbers are being considered.
The number of emergencies Devon and Cornwall Police have been called to has risen from 52,140 in 2010 to 56,217 in 2014.
Ch Supt Jim Nye, Devon and Cornwall Police's head of operations, said: "It is very challenging to meet our targets.
"The most important 999 calls are given priority. For others, we will still be there, but we may not arrive within our target time.
"We are reviewing the emergency service to see how we can get to calls faster and ask the public only to ring 999 if it is a genuine emergency."