Devon councillor living in France urged to quit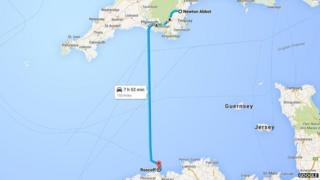 A Devon councillor who moved to live across the English Channel in France is facing calls to resign.
Conservative Eve Barisic lives in Roscoff, a commute of more than 150 miles (240km) by ferry and road to her ward in Newton Abbot.
Labour parliamentary candidate Roy Freer called it an "insult to the people of Newton Abbot and to democracy".
Ms Barisic, who moved seven months ago, asked to be judged on her performance.
The former planning official was elected as councillor for Newton Abbot North in May 2013, but moved abroad with her husband after he started a new job.
'Easily contactable'
Mother-of-one Ms Barisic, is a member of Devon's scrutiny committee, personnel partnership committee and the standing advisory council on religious education group.
Last financial year she claimed her attendance allowance of £10,000 along with £476 travelling and subsistence expenses and a carer's allowance of £195.
Her attendance record has not yet been disclosed by the authority.
She said she was "easily contactable every day" and in Newton Abbot for a week every month.
"It is only now, in the run up to the general election, that my political opponents have chosen to criticise me, despite having known I was here since the beginning," she said.
"I really want to serve the people of my ward and I would ask them to judge me on what I do and not where I do it from."
She says on the Conservative Party's website: "Having lived in Newton Abbot for six years, I love it.
"Newton Abbot is a wonderful place to live, work and play."
'A disgrace'
Mr Freer said he was "flabbergasted" when he heard of the councillor's commute.
He said in a letter to council and Conservative group leader John Hart: "She should do the decent thing and stand down, allowing her constituents to elect someone who not only lives in the community they serve but actually in the United Kingdom."
Ben Midgley wrote on a petition started by Mr Freer: "This situation is a disgrace and the stuff of a Monty Python sketch."
John Hart, leader of Devon County Council, said any councillor's personal circumstances could change during a four-year term.
"Eve is available to her constituents by email and phone and is in her ward regularly for face to face meetings," he said.
"She has assured me she can continue to serve her electors. I believe it is right to give her that opportunity."