North Devon council says 'Clean your own loos'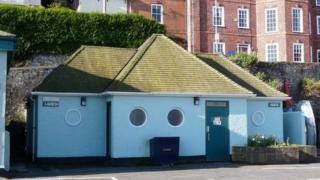 A cash-strapped council is asking people to clean their own public toilets.
North Devon Council wants parish councils and community groups to clean them in return for a grant.
The authority says its 27 facilities cost £320,000 a year and wants to find a "more economical way of providing the service".
Mayor of Ilfracombe George Squires warned the move could be a "slippery slope" towards closing public toilets.
The Liberal Democrat-Independent controlled authority, which has a budget of £11.7m, is making savings of £1.5m a year over the next two years amid cuts in government funding.
Councillor Rodney Cann said that with 50 toilet blocks in north Devon, the area was "particularly well provided for".
'Community cleaning'
Of those toilets, 12 were already maintained by communities but the council wanted to offload the rest to community cleaning.
"I don't think there's any question of closing the toilets," he said.
"This is not a slash and burn exercise at all.
"We are just looking at a more economical way of providing the service."
Mr Squires said Ilfracombe was "particularly blessed with volunteers" but he added: "I am not sure if looking after loos will be top of the list for all of them."
Eric Couling, chairman of Lee Residents Association which maintains the loos in the seaside village, called for rebates in return for the extra work.
"We have been looking after these toilets since 2004," he said.
"The average council tax here is well in excess o £2,000 and there are 112 properties in the village. That is an awful lot of money going into the coffers of North Devon District Council."
Councillors agreed to "review public conveniences to identify options on a site by site basis" for a report later this year.