Anti-exploitation lessons for people with learning disabilities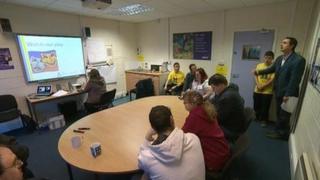 A new programme to help people with learning disabilities protect themselves from sexual exploitation has been developed in Devon.
People with learning difficulties were twice as likely to be sexually exploited as other people, the Helping Each Other programme said.
The scheme, funded by Comic Relief, uses role-play events and discussions to help people understand the risks.
Project leader Rod Landman said classes helped people realise what abuse was.
'Need for friendships'
One woman, who asked to remain anonymous, told the BBC she was sexually assaulted by a taxi driver who befriended her.
She said her abuser made her feel secure before he attacked her.
She said: "He said his name was the same as my dad's and that he was the same age as my mum, so I thought he was alright. He gave me flowers."
Project leader Rod Landman said: "The issue for many people with learning disabilities is the struggle to make friendships in ordinary life.
"They have the same needs and desires for friendships as the rest of us. That can be very easily exploited by anyone who is in that kind of business.
"Often, even when they realise something abusive is happening, they are very unlikely to get help because the need for a relationship is actually more important to them than the fact that abuse is taking place within it."