Exeter hot dog eater Jeremy Wayle stamped pigeon to death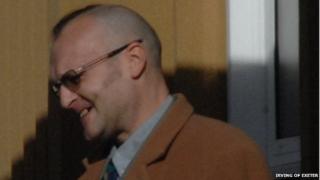 Shoppers watched in horror as a man stood on the wing of a pigeon before stamping it to death.
Jeremy Wayle had been eating a hot dog in Exeter city centre when he killed the bird, which had been attracted by the crumbs, a court heard.
Wayle called the bird "vermin" and then stamped on the pigeon and killed it, Exeter magistrates were told.
Wayle, 48, from Totnes, Devon, was given a 12-month conditional discharge after he admitted killing a wild bird.
'Wholly unacceptable'
He was reported to police by distressed onlookers.
His lawyer Katherine Todd said: "This was a terrible, terrible error of judgement. He did not set out to upset anybody.
"He does not like pigeons, rather like seeing a spider on the floor, he stamped on it.
"It was wholly unacceptable and most people would not contemplate doing it."
The court heard Wayle had not worked for 30 years because of a head injury and suffered from post traumatic stress disorder.