Exeter football matches 'cancelled by travellers'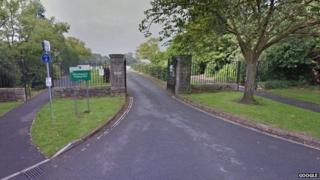 Fourteen football matches have been cancelled after travellers set up camp next to playing fields.
About 10 caravans arrived at the King George V playing fields car park in Topsham Road, Exeter on Friday.
Nigel Parker, the Central Youth Football Club chairman, said he could not have children walking through their campsite to the changing rooms and had cancelled all games this weekend.
He described the situation as "irritating".
'Disastrous'
"They are parked next to the changing rooms. I couldn't take the risk," said Mr Parker.
The site has a number of full-sized football pitches, a youth rugby pitch and a children's playground.
Labour councillor Marcel Choules said: "It's disastrous that the football matches have had to be cancelled as a result.
"People aren't against travellers, what people are against is the disruption caused."
A spokesman for Exeter City Council, which owns the site, said they have attended for an initial inspection.
The travellers are yet to comment.