Alex Peguero Sosa 'murdered in racist attack' in Devon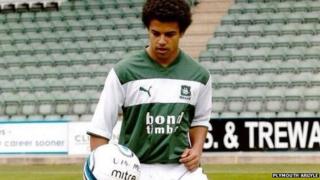 A teenager was stabbed to death with a bottle after being racially abused at a taxi rank, a court has been told.
Lee Dent, 42, from East Portlemouth near Salcombe, denies murdering Alex Peguero Sosa, 17, in Kingsbridge, Devon.
Mr Dent used racist language when he later admitted the offence to another man, Plymouth Crown Court heard.
Mr Peguero Sosa, from Aveton Gifford near Kingsbridge, was killed in the early hours of 6 July last year.
The court heard Mr Dent and a group of friends had been drinking in Kingsbridge and former Plymouth Argyle youth squad player Mr Peguero Sosa had also been out socialising with friends.
Both groups ended up by a taxi rank and one of Mr Dent's friends, Claire Jarvis, referred to Mr Peguero Sosa's hairstyle as being an "afro".
Prosecutor Simon Laws said: "Alex was of mixed race. Alex and his group took exception to this, saying that Claire Jarvis was being racist."
Mr Laws said one witness said he heard Mr Peguero Sosa use the word "racist" to Mr Dent, which may have been a reference to the spat with Ms Jarvis.
The court heard Mr Peguero Sosa and Mr Dent had been squaring up to each other when Mr Dent picked up a bottle and smashed it into Mr Peguero Sosa's neck.
Mr Dent's partner, Devon Rowe, said: "You have killed him, you have killed him."
Mr Laws said: "It was an act of pure aggression from the defendant.
"It was a situation he could have walked away from at any point. Instead, he chose to resort to violence of an extreme kind and a young life was wasted as a result."
The court heard Mr Dent left the scene and went to see an acquaintance called Henry Felton. He told Mr Felton that Mr Peguero Sosa "deserved it", using extreme racist language, the prosecution said.
Mr Dent dumped his blood-soaked clothes in a bin bag in a recycling bin, which police found the next day.
The court heard Mr Dent cut his hand in the attack.
When a trainee nurse friend treated it he told her: "I think I have killed someone, he pulled a knife on me and I stuck a bottle in his neck."
The court heard Felton, 22, of Fore Street, Kingsbridge, has admitted perverting the course of justice after helping Mr Dent. He will be sentenced at the end of the trial after he has given evidence.
Mr Peguero Sosa's father Alexis was in court for the case.
The trial continues.