Care worker rape arrest in Devon psychiatric unit inquiry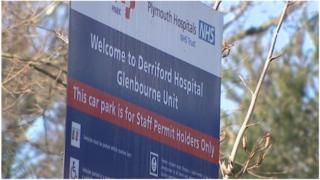 A care worker at an NHS psychiatric unit in Devon has been arrested on suspicion of raping a female patient, the BBC has learned.
The alleged attack happened at the Glenbourne unit, part of the Derriford Hospital site in Plymouth.
Devon and Cornwall Police said a 50-year-old man from Plymouth had been questioned about the alleged offence and released on bail.
The unit cares for up to 46 patients with serious mental health disorders.
'Absolutely appalling'
The victim's father told the BBC: "It's had a traumatic impact on my daughter and our whole family.
"I have worked in the NHS for many years, I know the standards of care we give on the whole are excellent.
"So to be told that my daughter at her most vulnerable has been raped within an institution that's supposed to protect her is absolutely appalling."
The man is making a formal complaint to managers at the unit and plans to bring a claim for damages against the trust which runs it.
Plymouth Community Healthcare, which manages Glenbourne, said it could make no comment while the police investigation was under way.
In a statement Devon and Cornwall Police said: "Following an incident, a 50-year-old man from Plymouth was arrested on suspicion of rape and released on police bail until 13 May."
The unit has previously been criticised for standards of care but in its latest inspection report in September 2013, the Care Quality Commission (CQC) found the unit was doing well.
It said: "Patients we spoke with who were staying at the Glenbourne Unit said that their care and welfare needs were being well met."