Devon wild beavers cleared to stay on River Otter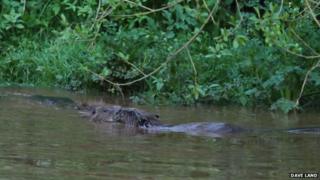 Devon's wild beavers will be allowed to stay on the River Otter after being found clear of a disease.
The Department for Environment, Food and Rural Affairs (Defra) confirmed the beavers were free of tapeworm.
Devon Wildlife Trust won a five-year licence to look after the beavers as long as they were free of the parasitic disease which is harmful to humans.
It said the beavers, which are being looked after in an artificial lodge, would be released soon.
Beavers have been living on the River Otter for a number of years, but where they came from is still a mystery. It is thought that there are now at least three young "kits" and four adults.
The government initially decided that the animals represented a possible threat, both to health and the countryside, and should be taken in to captivity.
This prompted environmental charity Friends of the Earth to launch a legal challenge, and the Devon Wildlife Trust to apply for a licence for them to stay.
That was granted in January, dependent on the adult beavers being found clear of the parasitic disease echinococcus multilocularis.
Devon Wildlife Trust said the tests were conducted without injury to the beavers which were being kept in artificial lodges and appeared to be comfortable and feeding well.
A spokesman said: "We are confident that we will be able to announce the beavers' return to the Otter in the near future."