Devon animal charity boss Stuart Ford 'jabbed dogs'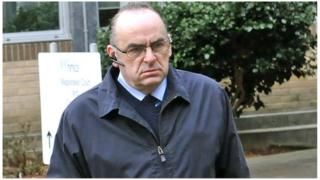 An animal charity boss used a broom handle to jab dogs locked up in crates for 21 hours a day to keep them quiet, a court has been told.
Stuart Ford, 54, who runs the Society for the Protection and Rehoming of Animals (SPRA) in Torrington, Devon, is alleged to have suspended dogs off the ground from their necks with a leash.
A worker said the dogs went without water if they kicked over their bowls.
Mr Ford denies 10 animal cruelty charges.
Brian Fitzherbert, prosecuting at Exeter Magistrates Court, said former employee Lee Walter who worked for SPRA from November 2011 said dogs were kept in crates in small sheds.
'Yanked off ground'
He claimed the dogs only had two 10-minute walks once in the morning and once in the evening and the rest of the time were kept in the crates for "the entire day".
Mr Fitzherbert said: "The dogs were being kept in a residential area and they could not be allowed to make noise because of complaints."
He said to silence the dogs Mr Ford, of Castle Hill Gardens, Torrington, "used a broom handle to jab through the crates and a pulley system to hook certain dogs making too much noise".
The court heard that Mr Ford "yanked" some dogs off the ground using check collars to discipline them.
Ford denied badly treating dogs in his care.
Giving evidence, he told the court he was not "yanking dogs to and fro with check chains" and "flinging a dog from a grooming table and it landing on its back".
He said he used to be employed as the manager of International Animal Rescue before starting up his own charity more than 14 years ago, and that his small charity took in 'aggressive' dogs that other charities would not.
Mr Ford showed the judge a variety of different collars that can be used on dogs and he said he was "passionate" about using the right collars on them.
The trial continues.
13 March 2015: This story has been amended for legal reasons.
Update 19 March 2015: The report of this case, which has been adjourned for several weeks, has been amended to include evidence given so far for the defence.