Exeter stabbing stalker Joseph Willis' sentence appeal rejected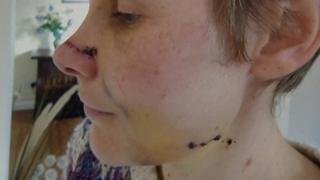 A stalker jailed for trying to murder his victim following a five-year campaign of harassment had an appeal against his life sentence rejected by the Royal Courts of Justice.
Joseph Willis, 49, from Exeter, was convicted last July of attempting to murder neighbour Helen Pearson, 34.
He was sentenced at Exeter Crown Court to serve a minimum of 13 years.
Judges at the Royal Courts of Justice in London said the term was justified for such a vicious attack.
Summing, Mr Justice Stewart, said: "There is no arguable case that the sentence passed was wrong in principle or manifestly excessive."
The sentencing judge had wrongly not been told about an offer he had made to plead guilty, Willis claimed.
'Tactical plea'
But Mr Justice Stewart, sitting with Lord Justice Fulford and Mr Justice Edis, said the offer of a plea had been a "tactical" decision.
His offer had been only on the basis that any allegation of stalking be dropped - and the prosecution had refused to accept such a plea.
Mr Justice Stewart said: "The sentencing judge was entitled to proceed on the basis he did."
Willis repeatedly stabbed Ms Pearson in the neck and face with a pair of scissors near St Bartholomew's Cemetery in Exeter in October 2013.
His trial heard he vandalised Ms Pearson's flat and car and daubed abusive messages on the streets around her house because she refused to go with him to see a band.
Ms Pearson told the BBC: "I'm moving on, rebuilding my life, and have put enough distance from what he did not to let his appeal bother me.
"I see it as just another way of trying to get at me, and I won't let it".
Threatening letters were sent to her, a dead cat was left on her doorstep, and her parents were also targeted.
About 125 reports of stalking were logged by Devon and Cornwall Police before Ms Pearson was stabbed eight times in daylight hours near St Bartholomew's Cemetery.