Morwellham Quay restoration reveals bell tower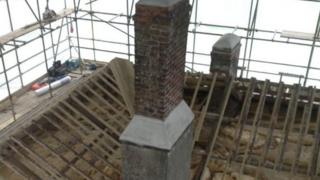 The restoration of a historic building in Devon has revealed the remains of a 19th Century bell tower.
It is believed the bell was rung to announce tide and shift changes for the copper mine workers at Morwellham Quay on the River Tamar.
The tower was revealed during re-roofing work on the buildings.
A spokeswoman said: "It is wonderful to be able to put the building into context in this way and gives us a fresh perspective on life here."
Morwellham Quay was a major port for shipping copper mined from the area in the Victorian era and is now run as a tourist attraction and museum.