New report finds Plymouth Airport 'could reopen'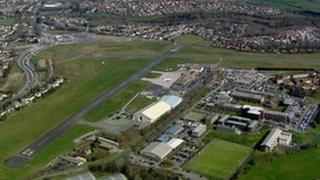 Plymouth Airport could reopen if it can gain access to future landings slots, a new report has claimed.
The report from the National Connectivity Task Force is based around future runway capacity in the south east when it is determined this summer.
The report said access to slots for the region must be a "key consideration".
The airport closed in December 2011 after the operators said it was no longer viable.
The report states: "If slots into the UK's international hub could be found for Plymouth the mothballing of the airport could be re-considered.
"Plymouth's large cluster of maritime businesses, the university and the Tamar Science Park all have ambitions that would benefit from easier international access."
It added that improved London hub links could be "particularly significant" to the far south west "because of the absence of any realistic prospects of high-speed rail connections into the area".
According to its website the National Connectivity Task Force was "established to develop proposals for how regional air links to London and the major airports serving London and the South East Region can be improved".
Independent airport consultant Chris Cain, who has been assisting the Task Force, told the BBC the report could have significant benefits for all three local airports in Devon and Cornwall.
"It will be important for local MPs to endorse the report so that its recommendations are supported by the Airports Commission and whoever makes up the new Government after the General Election; if that happens it is prospectively a game changer for connectivity from the region and its economy," he said.