Drink-drive course leader convicted of driving while drunk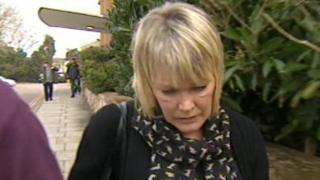 A woman who led drinking and driving awareness courses for more than 20 years has been sentenced for committing the offence herself.
Alison Baker, 60, was reported to police after being spotted making two early morning trips to buy wine.
Exeter magistrates gave Baker an 18-month community order and disqualified her from driving for 26 months.
She will now attend an alcohol awareness course in order to reduce the length of her driving disqualification.
Baker, of Playmore Drive, Exeter, was arrested on 13 May 2014 and was found to be three times over the legal alcohol limit.
She was reported to police after buying a bottle of wine at 08:30 from a garage and returning to buy another two hours later.
At her trial in February, the court heard Baker was so drunk when she answered the door to police she had to grip walls and furniture to stand up.
'Unnecessarily punitive'
Baker had denied the charge and claimed she drank one and a half bottles of wine at home in the ten minutes before the police arrived.
In court on Tuesday, Sonia Croft, for the prosecution, said Baker should not be allowed to go on a drinking and driving awareness course as she would gain nothing from it.
But Vanessa Francis, for the defence, said it was "spiteful and unnecessarily punitive" to attempt to prevent Baker from going on such a course.
District Judge Stephen Nicholls offered Baker a place on a course which could reduce her ban by 26 weeks.
Baker was also ordered to pay £430 in costs.
Baker ran courses for people convicted of drinking and driving for Devon County Council from June 1991 to March 2013.