Treasurer who stole £90,000 from Plymouth church jailed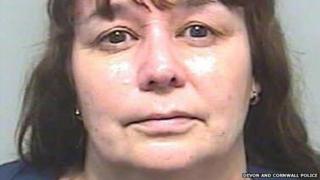 A treasurer who stole £90,000 from her church to fund her gambling habit has been jailed for 30 months.
Nicola Holding, 50, of Devonport, took the cash from St Boniface Church and pre-school, in Plymouth, over a three-and-a-half-year period.
Judge Paul Darlow said: "You plundered their accounts for your own benefit including gambling on internet sites."
Vicar Alison Shaw told the court there was a "huge sense of betrayal".
Judge Darlow told Plymouth Crown Court that Holding, who had pleaded guilty to two fraud charges, also forged documents to cover up her fraud.
'Spiralling'
Holding admitted the crimes two years ago but had failed to turn up to court to be sentenced, blaming a variety of illnesses.
The judge said she had manipulated her illnesses - most dramatically when she was due in court.
He said Holding had maintained she was housebound but had been filmed "out and about".
Mrs Shaw said Holding's crimes had had a "massive impact" on the church and its community.
"She was central to everything in the church," said the vicar. "Young people put her on a pedestal and she preached to the adults.
"She was a very moral person who told them how to behave. Nicola was trusted implicitly."
Jo Martin, mitigating, said online gambling was part of her life that was "spiralling out of control".
"Since the allegations her fall from grace has been huge and her life has even more spiralled out of control. Undoubtedly she has a number of medical issues," she added.
The court heard £24,000 has so far been repaid.