Dawlish flats fire started over 'noisy children playing football'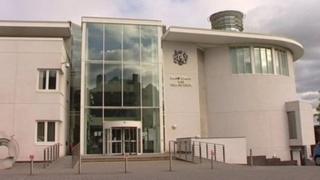 An angry tenant who protested against noisy children by starting a fire in a communal stairway has been jailed for three-and-a-half years.
Philip Fewings was so upset by the noise of them playing football against his wall, he set fire to his bedding in the block of flats in Dawlish, Devon.
He also started a second and third fire, Exeter Crown Court heard.
Fewings, 62, of Chestnut Walk, admitted arson being reckless as to whether life was endangered.
'Totally over the top'
Fire crews were called to the flats on 7 June at about 11:30 BST.
Judge Francis Gilbert said a neighbour put out the first fire and Fewings started another by lighting a quilt.
He said: "The firefighters sprayed water on it but you went inside to get a quilt with which you started a third fire, after the fire service had already arrived.
"You are described as an alcoholic by your neighbours and police were often in attendance at your flat.
"You said you were angry that children of your neighbours had been noisy, shouting and screaming and kicking a ball against the wall and disturbing your sleep."
However, Judge Gilbert said Fewings' reaction was "totally over the top" and one of his neighbours had been asleep at the time.
Sarah Vince, mitigating, said on the night of the fire Fewings was in an emotional state after the death of his brother and had been drinking even more than usual.
Fewings has been examined by a psychiatrist who found no mental illness but recommended treatment for alcoholism.
She added he was in poor health.