Mitie fined for 'service failures' at Cornwall hospitals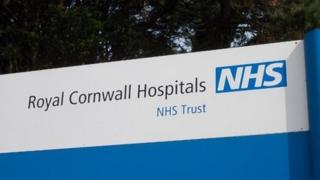 A firm hired to provide cleaning and catering in Cornwall's main hospitals has been fined after repeatedly failing to meet required standards.
The Royal Cornwall Hospitals Trust employed Mitie to provide "hotel services" in October 2014.
The company failed to meet required standards 51 times in February with 12 incidents classed as "major", according to figures seen by the BBC.
Mitie said it was "comfortable" with how its contract was progressing.
The trust said it would continue to work with Mitie to resolve the issues.
The figures released to the BBC following a Freedom of Information request showed the firm had 430 "service failure" points, and had been fined by the trust.
'Commercially sensitive'
Examples of service failures are if a ward is not cleaned to a satisfactory standard or if a cleaner fails to respond to a request to clean a spillage.
The trust has refused to reveal the size of the fine levied on Mitie as it believes it is commercially sensitive.
In January Mitie failed to meet required standards 85 times with two incidents classed as "critical".
Last month an unofficial protest by some company workers took place at the West Cornwall Hospital over pay.
The union Unison has sent out a consultative ballot to members on whether they want to take industrial action.