Berry Head cafe jobs lost amid concerns for bats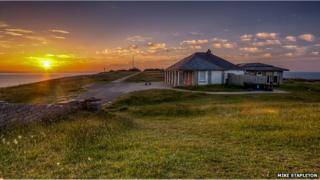 Four jobs have been lost at a beauty spot cafe after a ban on evening events in case they affect bats.
The Guardhouse Cafe on Berry Head, Devon, had hoped to hold two evening events a week, but conservationists say they have to end before sunset.
As a result, all the planned events have been cancelled and the number of jobs cut from 19 to 15, managers said.
Natural England said the bats were "extremely sensitive to disturbance by noise, light and physical intrusion".
---
Greater horseshoe bats
Named after the shape of their "noseleaf", used to emit echo calls which they use to navigate.
They can eat up to 3,000 insects a night, a third of their body weight.
Broad, round wings provide excellent manoeuvrability and agility in tight spaces.
Source: BBC Nature
---
Cafe boss Alex Foley said he had hoped to bring in about 40 people for events like Greek and Thai nights.
But in a "complete shock", the application for the events was rejected by landlords Natural England.
It was concerned about the effect on the estimated 92 bats, what is thought to be the UK's largest population of greater horseshoe bats.
Mr Foley said: "We support the protection of wildlife, but we have never noticed the bats.
"We were hoping to grow the business but there's no hope of that right now."
Natural England said it had not "entirely ruled out any evening events taking place at the café" if a survey showed there was no impact on the bats.
But it was concerned about the effect on the bats which fly across the entrance when they leave their roosts after sunset.